Scholarship Announcement for Foreign Student
Scholarship Application Requested from PSU Graduate School
Students fill out scholarship's details requested via the system within the due date of each.
After saving data in the system, please download the file of application form/research proposal form to complete all required.
After details completion, please print out or save application form/research proposal form into PDF file type.
Submit PDF file to the advisor for consideration.
If the advisor agrees, students can upload the PDF file into the scholarship application system.
After completely uploading, the notification will be sent to the staff and advisor respectively.
The PSU Graduate School will consider allocation of scholarships by informing the announcement to faculty where the student is in.
After the announcement of scholarship's allocation, students must follow up onwards.
Step by Step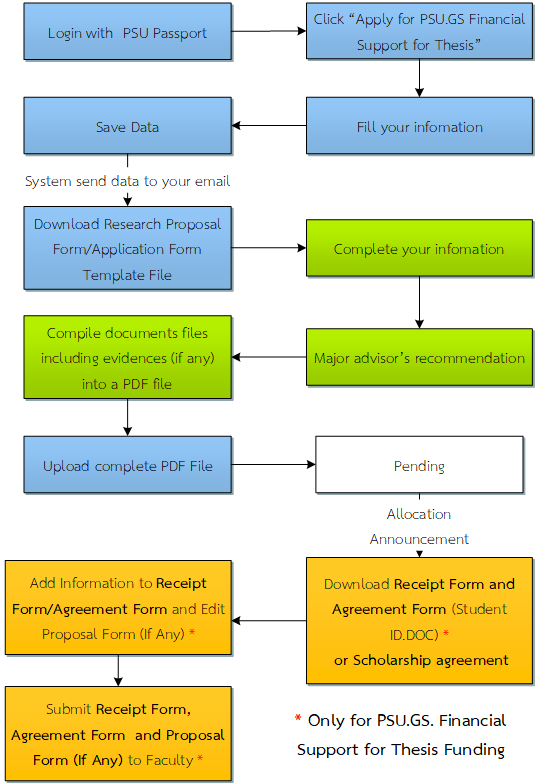 Progress Report for Grant Recipients
This form is used for all grants stating progress report for receiving grant.
Grant recipients could download the progress report form (.doc file) at "Scholarship Allocation" of each one.
Please completely fill out and file to advisor for signing.
Please scan or convert into PDF File.
Please select add more documents and fill out round of report together with PDF File attachment.
After saving, the system shall deliver an automatic email to staff and also advisor.
After the Graduate School considers progress report of grant, grant recipients shall get automatic email regarding result of consideration.
In case of validity, data shall be delivered to the finance section.
In case of invalidity, grant recipient shall receive an automatic email to correct and then re-submit once again.